Executive Director's Message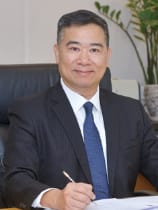 I would like to extend a welcome to the AVSECO web site. The Company has been providing a first class aviation security service at Hong Kong International Airport, Chek Lap Kok, since it opened in 1998. As the airport has seen amazing growth over the years, AVSECO has gone from strength to strength and has established itself as an aviation security services provider with a worldwide reputation. We are fully committed to enhancing our services to the travelling public to ensure their security, and providing a consistently high standard of service to our customers in the airport community.
As Executive Director of the Company I recognise the critical part played by our staff who, through their continuous effort and dedication, have established AVSECO's global reputation. It is my intention in the coming years to concentrate on developing our workforce to ensure that the Company's staff can pursue an active and rewarding career in aviation security with opportunities provided for self-improvement and development.
The threats against civil aviation are real and ongoing. Events over recent years have shown that terrorists around the world are constantly probing and testing new methods of attack, be they against passenger aircraft, airports, cargo freighters or other commercial aviation facilities. All AVSECO staff, as aviation security specialists, form the front line of defense for civil aviation operating out of Hong Kong and I know that I can trust them to remain vigilant and to give their best.
Mr. Jacob CHEUNG
Executive Director
Aviation Security Company Limited

我們是一家
「首先,促進同事職業生涯管理,透過持續培訓和晉升,發展終身職業,公司亦會從內部培育高級管理人員;第二,讓同事以職業使命而感自豪,對工作充滿優越感,留在公司長遠發展;第三,進一步提升員工歸屬感,營造大家庭氣氛。達成這三點,需團隊一同努力,齊心打拼。」